DANGEROUS WATER ADVENTURES
Dreaming is a uniquely human quality.  As Jet Ski enthusiast we often imagine throwing off the confinements of the workplace to escape and shred our favorite body of water.  But responsibility keeps us chained to the office waiting for the moment the proverbial bell rings and we can run for the waters edge.  For most, dreaming of heading out into the abyss is only a fantasy.
Now, meet legendary endurance rider Steven Moll.  Steven has taken the Jet Ski dream further than most would ever consider, he's literally turned a passion into a full time obsession.  After circling the planet with his crew of wayward Jet Ski mariners filming the reality television series Dangerous Waters, Moll is now one of the most unique adventure guides in the world.  Imagine flying to the Pacific Northwest and joining a crew of fellow Jet Ski adventurers from Seattle Washington nearly 1500 miles north the Juneau, Alaska.  Along the way participants are treated to a water passage teaming with Orca, Humpback Whales, Pacific White Sided Dolphins, Stellar Sea Lions, Sea Otters, Bald Eagles, Bears, and magnificent wilderness that has stood the test of time.  An expedition with Dangerous Water Adventures takes you well off the beaten path and deep into a remote environment that will no less revive your soul, lift your spirits, and certainly leave you wanting more. It's no wondered a staggering seventy percent of adventurers who participant in one leg of this epic adventure return to complete the entire journey.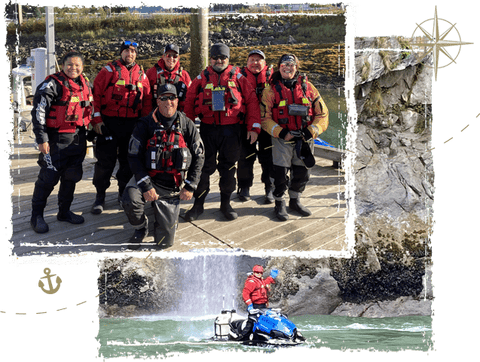 Here's the skinny on this adventure! Dangerous Water Adventures offers four routes so you don't have to bite off the entire distance in one short week. You can book an adventure from Seattle, Washington to Ketchikan, Alaska traveling 1000 miles through Puget Sound, the San Juan Islands, the Canadian Inside Passage and arrive in Ketchikan, Alaska. After you have licked your wounds and maybe bragged a little to your fellow Jet Ski enthusiast who won't have a clue why you are higher than a kite, you can return the following year and travel from Ketchikan, Alaska to the capital city of Alaska, Juneau. And if that doesn't fill your cup, Dangerous Water Adventures offers two additional routes exploring the back waterways of the Alaskan Inside Passage! Moll provides everything needed for your adventure including the Kawasaki Ultra LX Jet Ski, all of your fuel, dry suits, rescues pfd's, lodging, satellite communications, gps tracking, and oh yeah, the most important component, a professional guide who points the way and covers as a mechanic, inspirational coach, director of fun, and wildlife naturalist.
So, if you are tired of just dreaming about endless days in Jet Ski heaven, then we recommend you book an adventure with Dangerous Water Adventures. You only live once and according the adventurers who have joined Moll up north, this is an experience you will take with you into the next life! See you on the other side!
book your

next adventure!